Your Medical Mind
How To Decide What Is Right For You
Dr. Jerome Groopman
Dr. Pamela Hartzband.
upcoming appearances
October 21, 2016
Judah Folkman Lecture
18th Biennial Jerome P. Rickie Urologic Cancer Course.
4 Seasons Hotel, Boston, MA

May 28, 2017
23rd National Congress of Internal Medicine
Porto, Portugal

recent news
April 29th, 2012
Alabama Live:
Review of Your Medical Mind
April 23rd, 2012
The New Yorker Magazine:


"The Immune System Strikes Back"
reviews
"This important and riveting book could change and perhaps even save your life."
-- Daniel Gilbert, author of Stumbling on Happiness, Professor of Psychology at Harvard University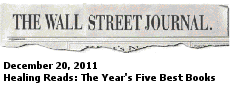 View the complete article at the Wall Street Journal
"This book by physicians who happen to be married uses compelling stories to show how people make treatment decisions when evidence and advice is often conflicting."